Our primary purpose in breeding is to produce the best possible example of the breed.  We are very careful to match the sire and dam to maximize the strengths and weaknesses of each.  Each adult has the required OFA clearances and eyes are CERFed annually.  We encourage you to check these clearances at the OFA website.  If you do not choose a SkyMark puppy, please make sure the breeder you choose also performs these tests. 

All puppies will be registered with both the American Kennel Club and the United Kennel Club.
Current Litter!

There are no puppies currently available.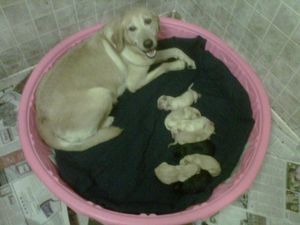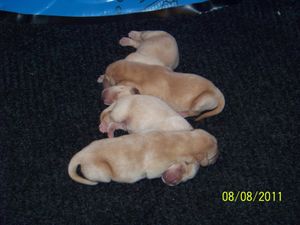 Barefoot on the Beach Barbie MH  x HRCH Tanner Riggs Readsy to Go MH
Black & Yellow puppies arrived August 5, 2011
4 Yellow Males, 2 Yellow Females, 1 Black Male, 1 Black Female
$800 ($200 deposit to hold your pick)
This litter is sold!