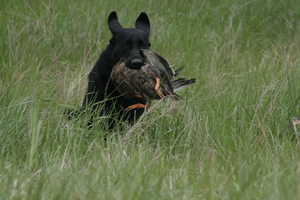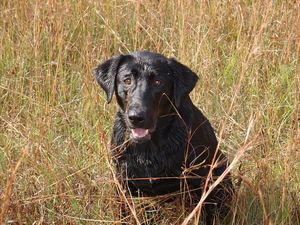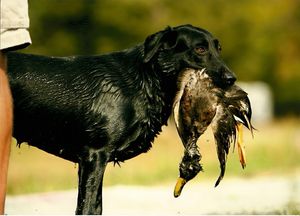 HRCH SkyMark's Bellatrix Blackstar MH, CGC, WCX
"Trixi"

12/24/03 - 11/18/14
OFA Hips: Good, Elbows: Normal, CERF Annually

Breeder: Chris Adams - Whitehouse Kennels

Trixi is a dynamite little retriever with an incredible attitude. Her grandfather says she "shines like new money."  She is 60 pounds of solid work ethic and drive.  She is a joy at home lounging around the house, retrieving toys at the lake for the nephews, or working hard in the field. She is even a "movie star!"  Trixi is one of the featured dogs in the new SportDog Collar training video.  Thanks to Charles Jurney, Beaverdam Kennels, for using Trixi in the video.  It is an honor to have been selected.

Trixi had many accomplishments including her Hunting Retriever Champion title and Master Hunter title. She qualified for both the 2007 and 2008 Master Nationals.  Tragically we lost Trixi in November. We are heartbroken and she will be forever missed.
HRCH UH Whitehouse Double Dealin Dan MH, QAA

Southland Ard's Smokin' Colt MH

FC AFC Westwinds Bold Tiger

Southland Black-Eyed Susan

Early Times Sandman Stanley MH

HRCH Whitehouse Annie from Oz SH

FC AFC Cornerstone Wizard of Oz

NFC NAFC Candlewoods Super Tanker